---
---
From the pages of the Official Guide, January 1910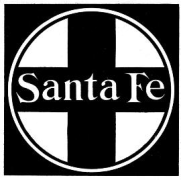 The California Limited

Atchison, Topeka & Santa Fe Ry.
January 9, 1910

3
Train Number
4
Daily
Miles
Services
Daily
8 00P
Dp
0
Chicago, IL

(Dearborn Sta.)

(CT)
T C
Ar
11 59A
9 01P
41
Joliet, IL
T C
10 45A
10 15P
Ar
94
Streator, IL
T C
9 20A
10 18P
Dp
11 15P
Ar
134
Chillicothe, IL
T C M
Dp
8 19A
11 18P
Dp
Ar
8 16A
12 33A
182
Galesburg, IL
T C M
7 02A
2 08A
237
Fort Madison, IA
T C M
5 34A
2 17A
239
Shopton, IA
T
5 30A
5 35A
352
Marceline, MO
T C M
2 10A
7 24A
416
Lexington Junction, MO
T
12 21A
9 00A
Ar
458
Kansas City, MO

(Union Depot)

T C
Dp
10 50P
9 10A
Dp
Ar
10 40P
RF
472
Holliday, KS

(See Note)

T
RF
499
Lawrence, KS

(See Note)

T C
10 40A
Ar
525
Topeka, KS
T C M
Dp
8 50P
10 50A
Dp
Ar
8 45P
12 25P
Ar
586
Emporia, KS
T C M
Dp
7 10P
12 30P
Dp
Ar
7 05P
2 20P
Ar
659
Newton, KS
T C M
Dp
5 15P
2 25P
Dp
Ar
5 10P
3 15P
693
Hutchinson, KS
T C M
4 20P
6 37P
Ar
813
Dodge City, KS (CT)
T C M
Dp
1 20P
5 47P
Dp
Dodge City, KS (MT)
Ar
12 10P
8 17P
914
Syracuse, KS
T M
9 40A
11 05P
Ar
1015
La Junta, CO
T C M
Dp
7 15A
Through Sleeper Denver-Los Angeles
610
Connecting Train Number
607
3 45P
Dp
0
Denver, CO (MT)
T C M
Ar
2 30P
6 15P
Ar
74
Colorado Springs, CO
T C M
Dp
11 50A
6 40P
Dp
Ar
11 40A
8 05P
Dp
117
Pueblo, CO
T C M
Ar
10 05A
10 20P
Ar
181
La Junta, CO
T C M
Dp
8 10A
11 20P
Dp
1015
La Junta, CO
T C M
Ar
7 05A
2 05A
1097
Trinidad, CO
T C M
4 49A
3 35A
1120
Raton, NM
T C M
3 25A
6 55A
Ar
1231
Las Vegas, NM
T C M
Dp
11 45P
7 00A
Dp
Ar
11 40P
10 10A
1295
Lamy, NM
T M
8 50P
721
Connecting Train Number
724
11 10A
Dp
0
Lamy, NM
T
Ar
8 20P
12 10P
Ar
18
Santa Fe, NM (MT)
T C
Dp
7 20P
12 20P
Ar
1363
Albuquerque, NM
T C M
Dp
6 20P
1 00P
Dp
Ar
5 50P
F 5 28P
1509
Wingate, NM
T C
F12 53P
5 55P
1521
Gallup, NM
T C M
12 30P
7 43P
1595
Adamana, AZ
T
10 13A
9 10P
1649
Winslow, AZ
T C M
8 55A
11 24P
1707
Flagstaff, AZ
T C
7 10A
12 50A
Ar
1741
Williams, AZ
T C
Dp
5 55A
Through Sleeper Winslow-Grand Canyon
14
Connecting Train Number
15
5 55A
Dp
0.0
Williams, AZ
T C
Ar
11 50P
9 00A
Ar
63.8
Grand Canyon, AZ (MT)
T C
Dp
8 30P
Through Sleeper Los Angeles-Grand Canyon
15
Connecting Train Number
14
8 30P
Dp
0.0
Grand Canyon, AZ (MT)
T C
Ar
9 00A
11 50P
Ar
63.8
Williams, AZ
T C
Dp
5 55A
12 50A
Dp
1741
Williams, AZ
T C
Ar
5 55A
1 52A
1764
Ash Fork, AZ
T C M
4 30A
3 10A
Ar
1792
Seligman, AZ (MT)
T C M
Dp
3 30A
2 15A
Dp
Seligman, AZ (PT)
Ar
2 15A
4 55A
1879
Kingman, AZ
T C M
11 05P
6 45A
1941
Needles, CA
T C M
8 35P
8 15A
1972
Goff's, CA
T C
7 25P
9 45A
2032
Bagdad, CA
T C M
12 10P
2101
Daggett, CA
T C
3 10P
12 30P
Ar
2110
Barstow, CA
T C M
Dp
2 55P
Through Sleeper Chicago-San Francisco
3
Connecting Train Number
4
1 30P
Dp
2110
Barstow, CA
T C M
Ar
1 15P
3 25P
Dp
2181
Mojave, CA
T C
Ar
11 40A
1 00A
2361
Fresno, CA
T C
Dp
4 20A
7 35A
Ar
2553
Richmond, CA (PT)
T
Dp
10 50P
8 45A
Ar
2562
San Francisco, CA (via ferry) (PT)
T C
Dp
10 00P
12 45P
Dp
2110
Barstow, CA
T C M
Ar
2 45P
2 45P
2166
Summit, CA
T
1 11P
3 45P
2191
San Bernardino, CA
T C
12 01P
DF
2195
Rialto, CA

(See Note)

T C
DF
2196
Etiwanda, CA
T
DF
2211
Upland, CA
T C
DF
2217
North Pomona, CA
T C
DF
2218
Lordsburg, CA
T C
DF
2220
San Dimas, CA
T
DF
2225
Glendora, CA
T C
DF
2227
Azusa, CA
T C
DF
2231
Duarte, CA
T
DF
2233
Monrovia, CA
T C
DF
2236
Santa Anita, CA
T C
DF
2238
Lamanda Park, CA
T
DF
2241
Los Robles, CA

(See Note)

5 31P
2242
Pasadena, CA
T C
10 25A
6 00P
Ar
2251
Los Angeles, CA

(La Grande Sta.)

(PT)
T C
Dp
10 00A
Through Sleeper Chicago-San Diego
79
Connecting Train Number
70
11 55P
Dp
2251
Los Angeles, CA (La Grande Sta.) (PT)
T C
Ar
6 45A
4 30A
Ar
2374
San Diego, CA (PT)
T C
Dp
2 15A
NOTE
for No. 3 at Holliday and Lawrence, KS: "Stops to take passengers holding first-class tickets for California."
NOTE
for No. 3 at all stations from Rialto to Los Robles, CA, inclusive: "Stops to leave passengers from points east of Albuquerque."
Santa Fe

Equipment—Chicago, St. Louis and California—Grand Canyon Line.

Nos. 3 and 4—
California Limited. Daily. Pullman Compartment Drawing-room Sleeper Chicago to San Francisco. Pullman Drawing-room Sleeper Chicago to San Diego; Winslow to Grand Canyon (on No. 3); Los Angeles to Grand Canyon, Grand Canyon to Winslow (on No. 4); Bakersfield and Fresno to San Francisco and St. Louis to Kansas City. Pullman Compartment and Observation Sleepers, Club and Dining Cars Chicago to Los Angeles. Cafe-Observation Car Barstow to Fresno. Drawing-room Sleeper La Junta to Los Angeles from Denver via No. 602-3, returning leaves Los Angeles Thursdays via No. 4-607. Wide-vestibuled and electric lighted throughout. Only regular first-class one way or round trip tickets will be honored. If one person occupies drawing-room alone, two first-class tickets will be required. If a compartment car stateroom, one-and-a-half tickets.
---