---
---
From the pages of the Official Guide, April 1971
The
Cannonball


Long Island Railroad Service
Long Island Rail Road [Metropolitan Transit Authority]
October, 1970
NEW YORK, BROOKLYN AND MONTAUK
Train Number
4008▲
4006▲
4▲
16▲
The Cannonball
4016▲
Miles
▼
SuHol
Sa
ExSaSuHol
ExSaSuHol
SaSuHol
0.0
New York, NY (Pennsylvania Station)
Dp
8 25A
8 25A
8 37A
4 19P
4 39P
Brooklyn, NY (Flatbush Ave.)
Dp
8 25A
8 25A
8 42A
4 19P
4 38P
All passengers from Pennsylvania Station or Flatbush Avenue, transfer at Jamaica
11.3
Jamaica, NY
Dp
8 49A
8 49A
9 06A
4 43P
5 00P
75.9
Westhampton, NY
10 33A
10 45A
10 54A
6 23P
6 40P
78.7
Quogue, NY
10 40A
10 52A
11 01A
6 30P
6 47P
83.7
Hampton Bays, NY
10 48A
11 00A
11 10A
6 38P
6 54P
90.9
Southampton, NY
11 01A
11 17A
11 24A
6 50P
7 06P
96.1
Bridgehampton, NY
11 11A
11 28A
11 34A
7 00P
7 16P
102.6
Easthampton, NY
11 21A
11 38A
11 44A
7 11P
7 30P
105.9
Amagansett, NY
11 28A
11 45A
11 51A
7 13P
7 36P
117.4
Montauk, NY
Ar
11 50A
12 07P
12 13P
7 40P
8 04P
Train Number
5▲
The Cannonball
4003▲
9▲
4005▲
4013▲
Miles
▼
ExSaSuHol
SaSuHol
ExSaSuHol
Sa
SuHol
0.0
Montauk, NY
Dp
6 10A
7 16A
1 56P
3 55P
6 35P
11.5
Amagansett, NY
6 32A
7 38A
2 18P
4 17P
6 57P
14.8
Easthampton, NY
6 40A
7 45A
2 25P
4 24P
7 05P
21.3
Bridgehampton, NY
6 50A
7 55A
2 35P
4 34P
7 19P
26.5
Southampton, NY
7 02A
8 05A
2 45P
4 44P
7 30P
33.7
Hampton Bays, NY
7 14A
8 16A
2 56P
4 56P
7 41P
38.7
Quogue, NY
7 22A
8 24A
3 04P
5 04P
7 49P
41.5
Westhampton, NY
7 29A
8 31A
3 11P
5 11P
7 56P
106.1
Jamaica, NY
Ar
9 07A
10 11A
4 53P
6 47P
9 21P
All passengers to Pennsylvania Station or Flatbush Avenue, transfer at Jamaica
Brooklyn, NY (Flatbush Ave.)
Ar
9 31A
10 32A
5 15P
7 10P
9 43P
117.4
New York, NY (Pennsylvania Station)
Ar
9 31A
10 32A
5 15P
7 10P
9 43P
NEW YORK, BROOKLYN AND GREENPORT
4204▲
204
Train Number
211
4211
4213
SaSuHol
ExSaSuHol
▼
Miles
▲
ExSaSuHol
Sa
SuHol
8 45A
8 51A
Dp
0.0
New York, NY (Pennsylvania Station)
Ar
6 00P
5 56P
9 08P
8 48A
8 42A
Dp
Brooklyn, NY (Flatbush Ave.)
Ar
5 59P
5 56P
9 08P
All passengers from or to Pennsylvania Station or Flatbush Avenue, transfer at Jamaica
9 10A
9 15A
Dp
11.3
Jamaica, NY
Ar
5 36P
5 35P
8 47P
10 46A
11 18A
75.3
Riverhead, NY
3 47P
3 50P
7 11P
10 55A
11 27A
80.3
Jamesport, NY
3 38P
3 41P
7 02P
11 03A
11 35A
84.4
Mattituck, NY
3 30P
3 33P
6 54P
11 09A
11 41A
87.3
Cutchogue, NY
3 25P
3 28P
6 48P
11 18A
11 50A
92.1
Southold, NY
3 16P
3 19P
6 39P
11 27A
11 59A
Ar
96.3
Greenport, NY
Dp
3 07P
3 10P
6 30P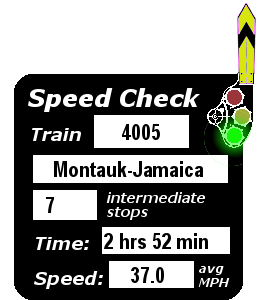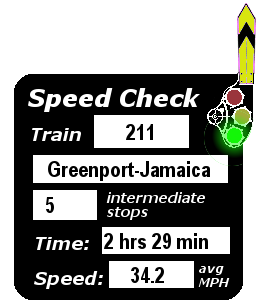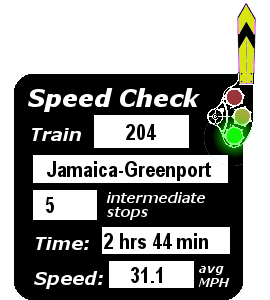 EXPLANATION OF SIGNS.

▲ Parlor Car Service—For information or reservations, please telephone 594-4050 in New York City or contact your local ticket agent.
Holiday Note—
The term HOLIDAYS applies to November 26, December 25, 1970, January 1 and February 15, 1971.
For Rail-Bus Service and other rail service write General Passenger Agent, Jamaica, N. Y. 11435 or Phone (212) 739-4200.
---
---