---
From the pages of the Official Guide, May 1957
Trains 1 and 2
Ferrocarriles Occidentales de Cuba, S. A.
Consolidated Railroads of Cuba
February, 1957
1
Train Number
2
Daily
Km
Miles
(FF. CC. O. de C., S.A.)
Daily
10 00P
Dp
0
0
Havana, Cuba

(Central Station)

(ET)
Ar
7 50A
12 02A
Ar
92
57
Matanzas, Cuba
Dp
5 39A
12 10A
Dp
Ar
5 31A
1 24A
Ar
146
91
Jovellanos, Cuba
Dp
4 17A
1 31A
Dp
Ar
4 10A
2 09A
179
111
Colon, Cuba
3 34A
3 32A
Ar
251
156
Santo Domingo, Cuba
Dp
2 05A
27
Connecting Train Number (FF. CC. O. de C., S.A.)
28
4 25A
Dp
0
0
Santo Domingo, Cuba
Ar
1 15A
5 11A
Ar
33
21
Sagua, Cuba
Dp
12 10A
8 25A
Ar
114
71
Caibarien, Cuba (ET)
Dp
9 10P
3 52A
Dp
251
156
Santo Domingo, Cuba
Ar
1 44A
4 35A
Ar
288
179
Santa Clara, Cuba
Dp
1 05A
(Cuba Railroad)
4 55A
Dp
288
179
Santa Clara, Cuba
Ar
12 45A
5 32A
Ar
324
201
Cumbre, Cuba
Dp
12 10A
5 34A
Dp
Ar
12 09A
6 21A
Ar
374
232
Zaza Del Medio, Cuba
Dp
11 19P
6 24A
Dp
Ar
11 18P
6 48A
398
247
Jatibonico, Cuba
10 56P
7 28A
Ar
442
275
Ciego De Avila, Cuba
Dp
10 12P
7 32A
Dp
Ar
10 08P
8 32A
509
316
Florida, Cuba
9 06P
9 05A
Ar
544
338
Camaguey, Cuba
Dp
8 30P
168
Connecting Train Number (Cuba Railroad Santa Cruz Branch)
111
9 10A
Dp
0
0
Camaguey, Cuba
Ar
7 14P
11 28A
Ar
99
62
Santa Cruz Del Sur, Cuba (ET)
Dp
5 06P
85
Connecting Train Number (Cuba Railroad Nuevitas Branch)
88
9 10A
Dp
0
0
Camaguey, Cuba
Ar
7 03P
10 52A
73
45
Nuevitas, Cuba
5 20P
11 03A
Ar
78
49
Pastelillo, Cuba (ET)
Dp
4 40P
9 20A
Dp
544
338
Camaguey, Cuba
Ar
8 14P
10 21A
Ar
603
375
Marti, Cuba
Dp
7 11P
(Alto Cedro Line)
10 28A
Dp
603
375
Marti, Cuba
Ar
7 09P
11 30A
664
413
Las Tunas, Cuba
6 06P
12 40P
Ar
737
458
Cacocum, Cuba
Dp
4 54P
129
Connecting Train Number (Cuba Railroad Holguin Branch)
130
12 55P
Dp
0
0
Cacocum, Cuba
Ar
3 58P
1 18P
Ar
18
11
Holguin, Cuba (ET)
Dp
3 25P
12 44P
Dp
737
458
Cacocum, Cuba
Ar
4 52P
1 29P
Ar
783
487
Alto Cedro, Cuba
Dp
4 07P
121
Connecting Train Number (Cuba Railroad Nipe Branch)
108
1 40P
Dp
0
0
Alto Cedro, Cuba
Ar
3 47P
2 50P
Ar
50
31
Antilla, Cuba (ET)
Dp
2 25P
1 33P
Dp
783
487
Alto Cedro, Cuba
Ar
4 01P
1 59P
806
501
Miranda, Cuba
3 36P
2 30P
Ar
830
516
San Luis, Cuba
Dp
3 05P
7
Connecting Train Number (Guantanamo & Western Railroad)
6
3 10P
Dp
0
0
San Luis, Cuba
Ar
2 18P
3 55P
23
14
San Benito, Cuba
1 35P
4 48P
48
29
Belona, Cuba
12 40P
5 18P
61
37
Cuneira, Cuba
12 11P
5 38P
71
44
Sempre, Cuba
11 45A
6 08P
Ar
86
53
Guantanamo, Cuba (ET)
Dp
11 20A
2 34P
Dp
830
516
San Luis, Cuba
Ar
3 05P
F 2 55P
846
526
Cristo, Cuba
F 2 42P
3 15P
Ar
862
536
Santiago De Cuba, Cuba (ET)
Dp
2 15P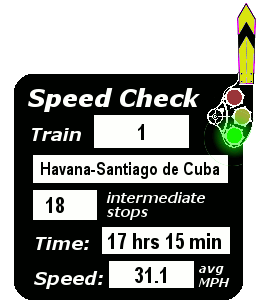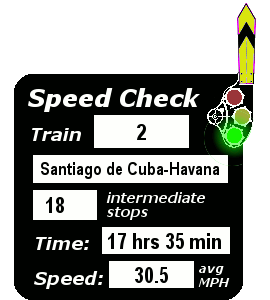 Standard of Time—
All railroads in Cuba use the time of the 75º Meridian, which is the same as U.S. Eastern Standard time.
(Ferrocarriles Occidentales de Cuba Notes)
Trains 1 and 2—
Carry Sleepers.
(Consolidated Railroads of Cuba Notes)
CONSOLIDATED RAILROADS OF CUBA
THE CUBA RAILROAD COMPANY
CUBA NORTHERN RAILWAYS COMPANY
Equipment—
Trains 1 and 2 between Havana and Santiago De Cuba carry Thru Sleepers and Buffet Car, via Alto Cedro.
---